BIPO again star-studded in the new season
While its 2017/18 season is still at full blast, the Borusan Sanat announces its programme for the next season. The new season will see the Borusan Istanbul Philharmonic Orchestra in 12 concerts with star virtuosos from both Turkey and abroad, as well as with some up-and-coming soloists, and Borusan Quartet in a total of eight – four on the European side and four on the Asian.
BIPO will feature Katia & Marielle Labèque, Mischa Maisky, Rudolf Buchbinder, Evelyn Glennie, Denis Kozhukhin, Ryan McAdams, Miah Persson, Elena Maximova, Rame Lahaj, Adam Plachetka, Nemanja Radulović, Bülent Evcil, and Gülsin Onay in its concerts at the Lütfi Kırdar ICEC during the 2018/19 season.
Season opens with a world premiere
BIPO continues to give Turkey and world premieres in the new season. In the Opening Concert on Thursday night, 4 October 2018, BIPO will accompany the renowned flautist Bülent Evcil under the baton of Sascha Goetzel in the world premiere of Fazıl Say's Flute Concerto.
A season crowned with premieres:
Turkey premiere with Labèques and a world premiere with Glennie
Enchanting audiences with their amazing technique and impeccable harmony in each and every concert, the piano duo Katia & Marielle Labèque return to the Borusan Sanat. Most recently, the duo gave the Turkey premiere of Philip Glass' Concerto for Two Pianos with BIPO in the 2015/16 season and presented their project Minimalist Dream House in their concert, entitled "West Side Story" within the BIPO's thematic festival, the same season. The Labèques will give the Turkey premiere of Dessner's Concerto for Two Pianos, co-commissioned by Borusan Istanbul Philharmonic Orchestra together with London Philharmonic, Dresden Philharmonic, Orquesta Nacional de España, and Orchestre de Paris.
A "true magician of percussion" and a musician much loved by our audience, Evelyn Glennie will be in Istanbul to premiere a new opus by Kamran İnce on 28 February 2019. Glennie, who sees percussion as her source of life, is a rare artist with a signature in a wide range of activities, from Björk's album Telegram to the 2012 London Olympics, while she is profoundly deaf. Kamran İnce, acclaimed for his music that blends Anatolian culture with the Balkans with a focus on the Byzantine and the Ottoman, will be conducting BIPO in this concert dedicated to his works. His new opus will also receive its world premiere this very night.
Brahms concertos with Buchbinder
Piano virtuoso Rudolf Buchbinder has been a guest to BIPO before with the Beethoven sonatas and concertos in two seasons and is now back to render the Brahms concertos in two concerts on 13-14 January 2019. Fascinating the audiences for the way he can constantly refresh his mastery, Buchbinder's two Brahms piano concertos albums, one with the Royal Concertgebouw Orchestra under the baton of Nikolaus Harnoncourt and the other with the Israel Philharmonic Orchestra under the baton of Zubin Mehta, have both been acclaimed by critics.
Celebrating long-term collaborations
Our Honorary Conductor Gürer Aykal and our Artistic Director and Principal Conductor Sascha Goetzel will be celebrating their collaborations with the BIPO in two separate concerts. Gürer Aykal will conduct BIPO with pianist Denis Kozhukhin in the 20th anniversary concert on 14 March and Sascha Goetzel will conduct BIPO with violinist Nemanja Radulović on the 10th anniversary concert on 16 May 2019.
Great composers
Milestones of the German repertoire, Brahms and Bruckner stand out in next season's programme that also features Respighi, Beethoven, Holst, and Walton, among others. BIPO will also perform works by the first generation of composers of the Republican era, known as the "Turkish Five"- Rey, Erkin, Saygun, Alnar, and Akses – along with the world premiere of the orchestra's commission to Kamran İnce. Concertos by Dvořák, Grieg, and Tchaikovsky are in next year's programme as well.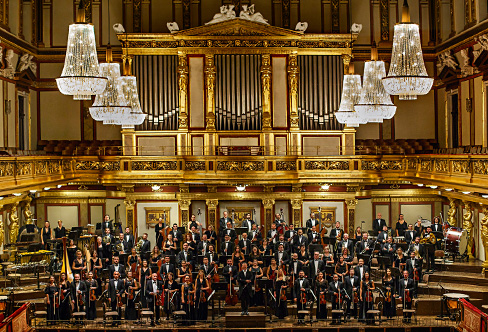 Two milestones of the choir repertoire: Bruckner and Brahms
A highlight of the new season will be the concert entitled "From Romanticism to Infinity", which will give music lovers the opportunity to enjoy the music of two milestones of Romanticism, Bruckner and Brahms, on 25 April 2019. Bruckner pursued the divine all his life and was attentive to every single tone and harmony in his works and Brahms engaged heavily in spiritual forms. In this concert where you will experience the power of choir music and German tradition, Te Deum by the former composer and A German Requiem by the latter will be performed by the Salzburg Bach Choir under the baton of Alois Glassner, together with renowned soprano Miah Persson, mezzo-soprano Elena Maximova, tenor Rame Lahaj, and bass-baritone Adam Plachetka.
BIPO on another Europe tour in December 2018!
Garnering praises abroad as well as in Turkey, BIPO will go on a tour comprising Stuttgart, Friedrichshafen, Amsterdam, Aachen, and Paris on 5-13 December 2018. The orchestra will be at one of the world's most prestigious halls, the Amsterdam Concertgebouw, with Nemanja Radulović.
Borusan Quartet now on both sides of Istanbul
Our ensemble Borusan Quartet, whose every concert draws music lovers from all across the city, will concertize on both sides of Istanbul in the coming season. Performing a wide range of works, from Haydn to Beethoven and from Mozart to Schubert, the ensemble will present the Vienna classics at the Kadıköy Municipality Süreyya Opera House and repeat the same programme the next day at the ENKA İbrahim Betil Auditorium.
Tickets
The 2018/19 season tickets for both BIPO and Borusan Quartet will be on sale as of 29 September 2018. BIPOCARD Classic and Gold holders will again have access to pre-sales and discounts. If you would also like to enjoy the benefits of BIPOCARD, please visit www.borusansanat.com/bifokart for detailed information.
We wish you a pleasant season…
Click here to see BIPO: SEASON PROGRAM 2018-2019