Borusan Sanat announces its 2016–2017 season program
Borusan Sanat announces the 2016–2017 season program of the Borusan Istanbul Philharmonic Orchestra (BIPO) and Borusan Quartet. BIPO's 13-concert season program, as always, is filled with stars of the classical world and a rich program. BIPO will continue to add symphonic masterpieces to its repertoire with its artistic director and principal conductor Sascha Goetzel and also present favorite concertos with stellar soloists.
This season, BIPO will meet with with a variety of artists such as Joyce DiDonato, İdil Biret, Zuil Bailey, Kate Royal, Roberto Cominati, Thomas Hampson, Luca Pisaroni, Valeriy Sokolov, Ray Chen, Özgür Aydın, Ian Bostridge, Dorothea Röschmann, Naoko Shimizu, Gabriela Montero and Leticia Moreno.
An opening to remember: Joyce DiDonato
BIPO will make a grand opening with a great star of the classical world: Joyce DiDonato, one of the greatest opera stars of our times. The program will be no less fascinating than the soloist herself: a selection of arias from Bellini, Rossini and Donizetti operas, which DiDonato is famous for. This will surely be an unforgettable moment for Istanbul's classical music fans.
A life dedicated to music: İdil Biret
İdil Biret, is no doubt, one of the first names to come to mind when we speak of classical music in Turkey. Apart from her prestigious career as a performer in Turkey and abroad, Biret has also been invited to several important competitions as a juror. In 2016, İdil Biret, a source of pride for Turkey for decades, will be celebrating her 75th birthday with BIPO.
BIPO plays Viennese music
Istanbul's classical music enthusiasts have got used BIPO's annual thematic festivals in December, which have brought a fresh sound to the city's classical scene. We will not be having a festival this year because BIPO will be on a European tour in December 2016, still they won't leave their audience with music. Two Viennese music themed concerts with Ray Chen and Roberto Cominati as soloists and another titled "Time of Innocence" will end 2016.
Welcome 2017: Thomas Hampson and Luca Pisaroni
BIPO's annual New Year's Concert has always been one of the most anticipated events of their season and this year's will be no exception. Thomas Hampson and Luca Pisaroni have separately mesmerized the Istanbul audience in previous seasons and now these two opera stars will join forces to give a not-to-miss New Year's Concert.
A world premiere: Hasan Uçarsu
BIPO's season are never short of Istanbul or Turkey premieres of the existing repertoire or newly commissioned pieces. In March, they will be giving the world premiere of leading Turkish composer Hasan Uçarsu's new concerto for piano and viola with Özgür Aydın and Naoko Shimizu as soloists and under the direction of Gürer Aykal.
Great symphonies
Every season comes with its own surprises and programming, but this year it's quite obvious that the masterpieces of the symphonic and concerto repertoire are given a special place. BIPO's adventure with Mahler, which Maestro Goetzel is especially keen on, goes on with the composer's first and fourth symphonies. Mozart's 41, Bruckner's 9, Tchaikovsky's 5, Schubert's 4 will also add greatly to the symphonic strength of the season, not to mention Stravinksy's The Rite of Spring, which is ever fresh and challenging an Brahms's orchestral works that hold an important place in the program.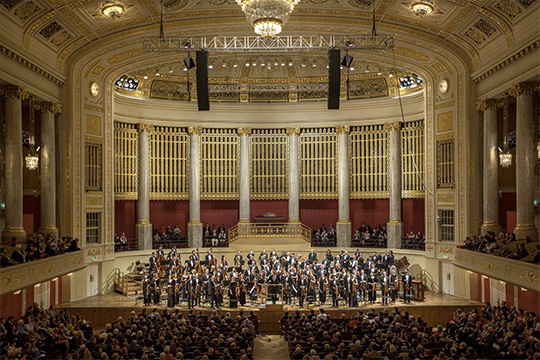 Great concertos
Mozart, Brahms and Tchaikovsky will play a major role in the concerto section of this season's program just like the symphonic repertoire. The favorite works of the concerto repertoire will meet the Istanbulites with Ray Chen performing Mozart's Violin Concerto No.3, Roberto Cominati performing Brahms's Piano Concerto No.2, Valeriy Sokolov performing Brahms's Violin Concerto, Gabriel Montero performing Tchaikovsky's Piano Concerto No.1 and Leticia Moreno performing Mozart's Violin Concerto No.5.
In memory of Leyla Gencer: Der Rosenkavalier
BIPO's tribute opera-in-concert events for great opera diva Leyla Gencer will bring Richard Strauss's Der Rosenkavalier to Istanbul, which will be a Turkey premiere for this much loved and widely performed work.
Borusan Quartet
The Borusan Quartet is about to become an Istanbul classic with their regular concerts at the Süreyya Opera House. But there's no holding them there as they perform around Turkey and abroad. They are still working on their program for the Süreyya Opera House. Let's say it ranges from Schubert to Vasks, Adams and Weber. We would expect nothing less from them.
Alternative sounds at the Borusan Music House
Borusan Music House plays a major role in Borusan Sanat's endeavors to reach a younger audience as far as music is concerned. Every season they present leading figures of the alternative and contemporary music scene. Opening, as always, with Mercan Dede, they will host Nova Muzak series artists and ensembles as well as Satoko Fuji Trio, Lambert and many more to come.
Tickets
The season tickets will be available for sale on October 1, 2016. Advance and discount sales for BIPOCARD members will be in September. The final program will be announced in September 2016.
Enjoy a season of classical music with Borusan Sanat.