WORK=BEING IN THE WORLD #2
ANTTI LAITINEN
Curator: Dr. Necmi Sönmez
5 March–1 April 2016
Borusan Sanat Building
A collaboration of Borusan Sanat with Borusan Contemporary and curated by Dr. Necmi Sönmez, the "Work=Being in the World" project will host Finnish artist Antti Laitinen with his work It's My Island I, II, III in March.
The "Work=Being in the World" project focuses on video works of international video artists in the Borusan Contemporary Art Collection and it's March edition will show Finnish artist Antti Laitinen's It's My Island I, II, III. Laitinen received his education at the Turku and Helsinki art academies. After 2003 he concentrated on the relationship between nature and human beings in his exhibitions and produced an interrelated body of works working concurrently with different mediums such as sculpture, performance, video and site-specific installations. His 2002 work Bare Necessities was a turning point in his career; the artist lived in the nature for four days without food, drinks and clothing and documented the changes in his body. From then on, he started using materials the nature provided him like stones, mud, and tree bark and chased his "personal utopia" making references to the universal dreams and imagination of human beings.
His 2007 work It's My Island, exhibited as part of "Work=Being in the World", was conceived as a triptych formed of three projections. Here it will be shown as a single-channel video with permission by the artist. The video shows the artist's struggle to build a tiny island to sit on by dragging and piling up sacks he filled with sand; all despite the countering force of the waves. This work commends chasing dreams without expecting any benefit or result in return and reminds us that an individual should go on an all out struggle for freedom. With the help of simple but powerful images, he almost invites the viewer to build islands of their own.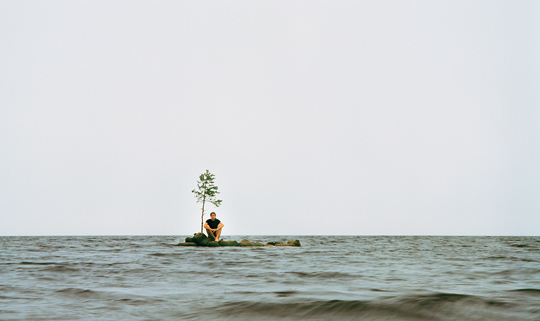 "Work=Being in the World"
#2 Antti Laitinen
5 March–1 April 2016
Click to download the brochure.
Visitng Hours:
Monday–Friday between 10 am–6 pm
Borusan Sanat
İstiklal Caddesi No: 160A Beyoğlu, İstanbul
www.borusansanat.com