Respighi/Hindemith/Schmitt
Borusan Istanbul Philharmonic Orchestra
Conductor: Sascha Goetzel
The Borusan Istanbul Philharmonic Orchestra's first international recording which was recorded under the baton of the orchestra's artistic director and principal conductor Sascha Goetzel reached the shelves in January 2010 in Europe and March 2010 in USA. Published by the Onyx label, the CD features works inspired by the Orient requiring the young orchestra to show all its talent. While the repertoire of occasions of this kind generally includes famous masterpieces, BIPO's CD comes along with a distinctly exotic repertoire of Respighi's Belkis, Queen of Sheba, Hindemith's Symphonic Metamorphoses on Themes by Carl Maria von Weber and Florent Schmitt's The Tragedy of Salome and as a bonus track for iTunes selections from Holst's Beni Mora. Goetzel opted for these works to stand as a perfect example of building a bridge between east and west by way of music.
The CD brings together an internationally recognized team. The late producer John West is a renowned figure who worked with Yehudi Menuhin along with other famed artists. The sound engineering was assumed by Mike Hatch who also collaborated with West on many projects and worked as an engineer for many others.
The design concept of the CD featuring works of rarely recorded works of European composers inspired by the orient is developed in parallel with the program. The photographs of the CD package were taken and selected by architect and photographer Ahmet Ertuğ.

The CD received quite positive reviews from the international music media.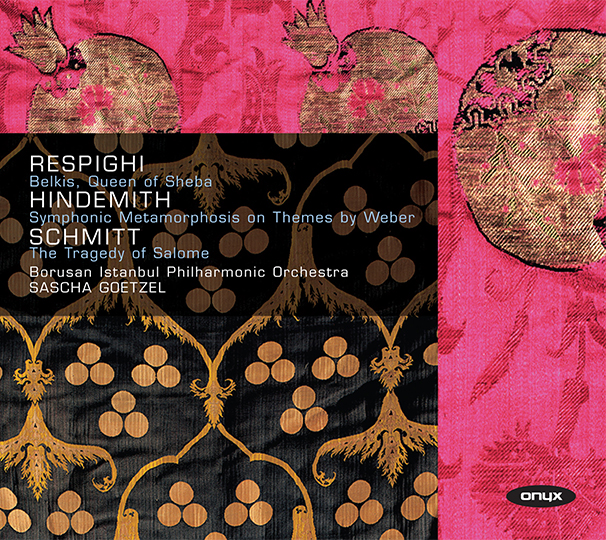 Respighi/Hindemith/Schmitt
OTTORINO RESPIGHI (1879–1936)
Belkis, Queen of Sheba
PAUL HINDEMITH (1895–1963)
Symphonic Metamorphosis on Themes by Carl Maria von Weber
FLORENT SCHMITT (1870–1958)
The Tragedy of Salome